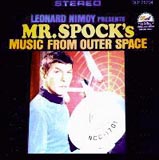 Leonard Nimoy Presents: Mr. Spock's Music From Outer Space
Includes the Star Trek Theme, Mission Impossible Theme, as well as Nimoy singing "Twinkle Twinkle Little Earth" and "Where Is Love?"
$12.99
Leonard Nimoy sings "If I Had a Hammer", "Proud Mary" and others.
$25.99
Spaced Out: The Best of Leonard Nimoy and William Shatner [IMPORT]
A "best of" collection from Spock and Kirk's dubious flirtations with singing careers.
$17.99